MOBILE SUIT GUNDAM MSV-R THE TROUBLEMAKERS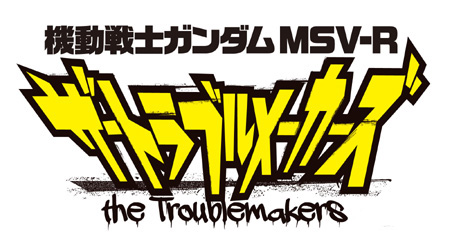 MOBILE SUIT GUNDAM MSV-R THE TROUBLEMAKERS
機動戦士ガンダムMSV-R ザ・トラブルメーカーズ

Story: Tohru Takasaki & Harunosuke Takaoka
Original Plan: Hajime Yatate & Yoshiyuki Tomino
Character Design: Fujii Tomoyuki
Mechanical Design: Kunio Okawara

Serialization: Dengeki Hobby
Publisher:  
Release Period: 2013.03 – ????
Compilation: —-
---
OUTLINE
【概要】
Following Advance of Zeta The Traitor to Destiny, this is a bold and original story written once again as a collaboration between Gundam.info and Dengeki Hobby Magazine! The serialization kicks off in the May issue due out March 25th.
---
SUMMARY


【あらすじ】
TROUBLE 01-1: Gundam Hammer vs Heat Rod (Part.01)
---
CHARACTERS


【登場人物】
PRINCIPALITY OF ZEON
【ジオン公国軍】
Deen West: A ladies' man who always has a smile. Ended up on Earth immediately after the One Year War with a mobile suit in his possession. Seems to have fought in the war. Age 19.
Masa Ookawa: A cool, withdrawn introvert who lends Dean a helping hand. It seems like he also fought in the One Year War, but… Age 25.
EARTH FEDERATION FORCES
【地球連邦軍】 
Damon Casley: An MP for the Federation Forces. Rank is Lieutenant.
Julia Holts: Rank is Ensign.
---
WEAPONS


【登場兵器】
PRINCIPALITY OF ZEON
【ジオン公国軍】
MS-06G Zaku II High Mobility Ground Type [Deen West Unit]
Samson 
EARTH FEDERATION FORCES
【地球連邦軍】 
RX-79[G] Gundam Ground Type
RGM-79V GM Nightseeker
CB-X5 (SGT) Gunperry Assault Type