GUNDAM SEED ASTRAY PRINCESS OF THE SKY CASTLE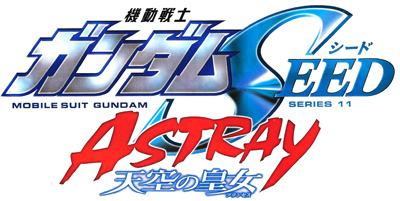 MOBILE SUIT GUNDAM SEED ASTRAY PRINCESS OF THE SKY CASTLE
機動戦士ガンダムSEED ASTRAY 天空の星女
Original Work: Hajime Yatate & Yoshiyuki Tomino
SEED Character Design: Hisashi Hirai
ASTRAY Character Design: Youichi Ueda
SEED Mechanical Design: Kunio Okawara & Kimitoshi Yamane
ASTRAY Mechanical Design: Junichi Akutsu (ASTRAYS)
Cooperation: Bandai Hobby Division
Production: Sunrise
Publisher: Kadokawa
Serialization: Gundam Ace
Release Period: 2015.10
Compilation: —
---
OUTLINE


【概要】
The official sidestory that started in 2002 as another Gundam SEED: Gundam Astray!! The series that unfolded from different angles via comic, novel and photonovel, returns to this magazine with a completely new comic work since FRAME ASTRAYS! The title of Series 11 is "Mobile Suit Gundam SEED ASTRAY –Princess of the Heavens–!
---
SUMMARY


【あらすじ】
PROLOGUE
The Cosmic Era. Coordinators, born through genetic modification and Naturals, who are born naturally. Both experienced two great wars. People devoted themselves to fighting for things they believed in and things they should protect. Fighting gives birth to hatred and hatred in turn gives birth to sorrow. The battlefield swallows the fate of the soldiers and turned into the gravestone to an invisible future. Although a transient piece arrived in the end, the scars of war run deep. Yet in such a world, there were those who walked a path they strongly believed. Engineers giving their lives and roles to that which was discarded and destroyed: Junkers. Those who fight for those without power: Mercenaries. Those who convey the truth to the people: Journalists. Even if they deviate from the noble path, they will follow a path they believe in according to their own beliefs… Astray.
---
CHARACTERS


【登場人物】
【ジャンク屋組合】
JUNK GUILD
Lowe Guele
8
Kisato Yamabuki
Yoon Sefan
【サーペントテール】
SERPENT TAIL
Gai Murakumo
Elijah Kiel
Kazahana Azure
【その他の傭兵】
OTHER MERCENARIES
Dante Gordigiani: Mercenary. Age 49. Although he is a Coordinator, he cooperated in the development of combat coordinators for the Earth Alliance. For that reason, he knows of Gai's past. He possesses extremely high combat abilities. He is particularly fond of battles with long swords. Whether it be a mobile suit battle or a fight in the flesh, he fights holding a sword with both hands. He is the man who created Gai. Pilots the Astray Noir.
Elsa Weiss: Mercenary. Age 20.
Kaite Madigan
Canard Pars
【ザフト】
ZAFT
Shinn Asuka
Lunamaria Hawke
【オーブ】
ORB
Socius
Rondo Mina Sahaku
【アクタイオン・インダストリー社】
ACTAEON INDUSTRIES
Valerio Valeri
【ライブラリアン】
LIBRARIAN
ND-HE
Rondo Gina Sahaku
Lily Thevally
Un Nou
【マーシャン】
MARTIANS

Ergnes Brahe
Setona Winters
【民間人】
CIVILIANS
Jess Rabble
Trijan Noiret
Lath Winslet
---
WEAPONS


【登場兵器】
【ジャンク屋組合】
JUNK GUILD
MBF-P02 Gundam Astray Red Frame
MWF-JG71 Raysta
Transport Helicopter
【サーペントテール】
SERPENT TAIL
MBF-P03secondL Gundam Astray Blue Frame Second L
LV-ZGMF-X23S Vent Saviour
【その他の傭兵】
OTHER MERCENARIES
YMF-X000A/H Dreadnought H
【オーブ】
ORB
MBF-P01-Re<AMATU> Gundam Astray Gold Frame Amatsu
【地球連合】
EARTH ALLIANCE
GAT-01 Strike Dagger
Nelson-class
【ザフト】
ZAFT

ZGMF-1017 GINN
GAT-X202 Aegis Gundam
ZGMF-X42S Destiny Gundam
GENESIS
Laurasia-class
【民間人】
CIVILIANS
ZGMF-X12 Gundam Astray Out Frame
MBF-P04 Gundam Astray Green Frame
---
TIMELINE


【年表】