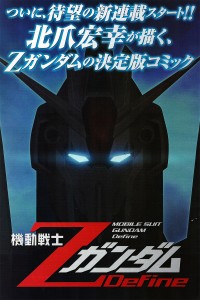 I've added Z Gundam Define (ZGD) to our Database page with some prelim stuff from the first chapter. Expect the translated version to be out as soon as it goes through QC. =) Until then!
Ah hell, it's complete. Here's the specs! 😛
MOBILE SUIT Z GUNDAM DEFINE
STRUCT 01
Translation: Deacon Blues
Photoshop: Deacon Blues
Editing: Martin Wandering
[TORRENT LOCATION || GALLERY VIEWING]
Breaking the silence, Char makes his move! But what of Kamille's fate?! Stay tuned in the next installment of Mobile Suit Z Gundam Define!