Gundam F91 Production Sidestory
Note: The following is a translated excerpt from an interview published in the B-Club Special Mobile Suit Gundam F91 The Official Edition book that came out in May of 1991. Translations of subsequent points in the interview are to follow in the future. This is to dispel some of the current rumors going around about F91 following an erroneous review of the movie (with bogus claims) on the AnimeNewsNetwork website.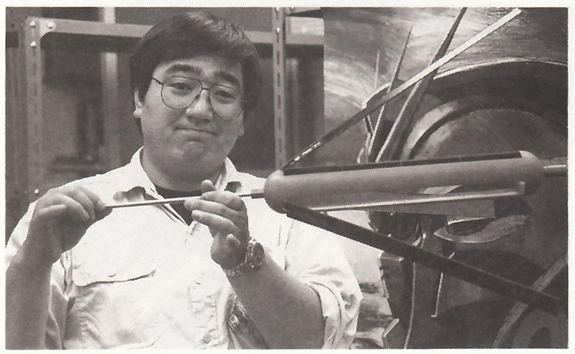 Gundam F91 Production Sidestory
Sunrise Planning Office F91 Setting Production
Kouichi Inoue
■ FEBRUARY 1989: An Entirely New "Gundam" Emerges!
We started development while wondering what kind of Gundam would come after the major turnaround in 1989 (first year of the Heisei Period).
As for F91, the rough sketch in the planning room had already been named, "Heisei Gundam". And although it was going to be one of the main cast Gundams, its pre-planning (besides discussing the basic settings with the director), and model designing according to the planning stage for the Mecha (MS only) had started in the first year of the Heisei Period, that is, in February 1989.
For an animated work, the project proposal officially starts to materialize only after deciding whether it's going to be a movie or a TV series, and when it was going to premiere. This time, the process leading to the project proposal took much longer than usual, and that's why it took almost a year after the airing of "Char's Counterattack" for us to start designing the characters, which was in April 1989.
It initially puzzled us as to what we were going to pit against the fin funnels in "Char's Counterattack". Including the process of finding someone to be our mecha designer, we had to go through several trials and errors.
We finally decided in April to stage the new work in a different era. As such, we had to come up with a new world with entirely new mobile suits (hereinafter MS). Around that time, we unanimously thought of Mr. Okawara for mechanical design, and Mr. Yasuhiko for character design.
Afterwards, we managed to put together a meeting that included the director, where we discussed specific plans and ideas. And yet, although it was May, we still had no idea whether the work was going to be a movie or a TV series. Even so, the project planning had already begun materializing. At that time, we were hoping to air the work in April 1990, which was 12 months from then.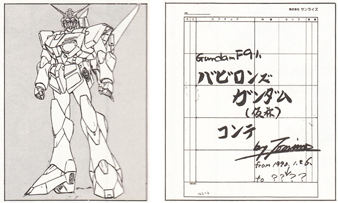 (left) First design of the "Heiwa Gundam".
(right) The initial title of the storyboard was called "Gundam F91 Babylon's Gundam"
Originally in creating movies, it is an extremely difficult task to keep on introducing new world views, enemies, characters, etc. It is an unending process of receiving memos from the director, and returning new memos back to him.
Around August, as we were still working on this process, president Yamaura, who was also the grand producer, came and told us that he would like the work to "last a decade, since we had come a decade." Easy for him to say! (laughs) But while we were holding meetings, the director said he had come up with an idea that would in fact last 10 years. This exact idea was aristocracy, resulting in a worldview of Crossbone Vanguard, and Cosmo Babylonia. That's when things related to the story started to fall in place. I think we also came up with the protagonist's name, Seabook, as well as Berah, just around this time.
Normally, we would be working on project planning until the proposal was done. But for this Gundam, the planning stage was also the process in which we came up with the story, which took us a considerable amount of time. It was mostly because the work process involved different designs and details picking at each other, and we also had to consider whether director Tomino's story line was in accordance to the project.
We then agreed that we had to finish the settings by at least September, if we were to premiere the show in April of next year. And then we rushed to do our mecha-related work.
As for the mecha, we had to pick Mr. Okawara over several other designers. Since the work was going to be the very first chapter of its era, we needed someone to produce designs that were foundational.
And yet, since Mr. Okawara had just finished working on a different project that had involved combining-mecha, his designs were somewhat thicker and bulkier than our liking. That's where we had to recommission him to work on new designs, under the assumption that Gundams had evolved over time, and were now able to assume the body proportions resembling those of humans.
Our orders included a muscular and sturdy build, sometimes more like the body of Arnold Schwarzenegger, sometimes like Sylvestor Stallone, and sometimes even like Jackie Chan. One day, Mr. Okawara offered us a new design, saying "how about designing Gundams with the slick lines found in modern cars?" That design was incredibly stylish, and we all loved it.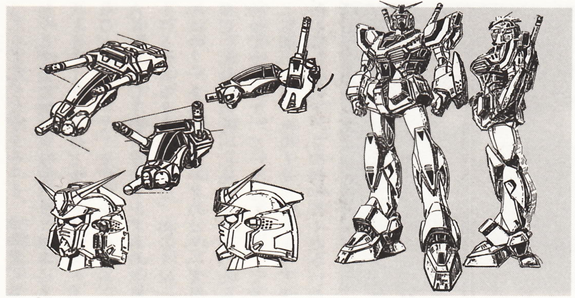 Designs inspired by the lines on cars. Around the time, it was also assumed there would be a core fighter as well.
At that time, we were yet to have the name, F91. In the early stages, we just called it, "New Gundam".
There were also several problems in designing the characters, although the main problem was that there were simply too many of them. We needed someone who was able to design many characters, who were also all charming in their own right, so we decided to pick Mr. Yasuhiko.
The first time we met with Mr. Yasuhiko was around October 1989. He told us he would join our project if we would converse with him regarding the story line. Mysteriously enough, we had somehow managed to gather all 3 of the previous staff for the project.
Some time had passed, and while we still couldn't decide whether the project was going to be a movie or a TV series, the grand producer told us to have everything prepared just in case the show were to become a TV series. And yet, it wasn't being decided.
This is the stage where we started writing the project proposal for a TV series, Gundam F91. The same goes with all the characters.
As we entered October, we were sure that the show would not make it to TV by next April. That's when we decided to go with a movie. We worked hard day and night to start working on the project proposal for a movie. And although we didn't have a complete scenario at that point, our director had given us a plot. It was a story of Cecily (still Berah Roma at that time), and Seabook.
Going back in time, the director gave us this story in a 20-page long word document back in July. To create a complete scenario based on it, the scenario writer Itou Tsunehisa joined us in August. We had asked him to do the series composition if it were to become a TV series, and general scenario writing if it were to become a movie.
If I think about it now, the scenario that was written at this stage had actually become the first plot for the movie.
The first plot, and the scenario composition for a 13-episode TV series came out in October. And yet, we were bound to have some trouble once it was decided that it was going to be a movie. It was precisely because at that point, we had Berah on the other side, still hostile to Seabook to the end. But since the movie had to have a happy ending, we somehow had to bring her back on the same side with Seabook. Director Tomino told us that he'll do something about it, so he added a bunch of notes and tampered with the end of the 13-episode plot.
With that as the basis, we held meetings in Sunrise's conference room with Mr. Yasuhiko and Mr. Okawara, where we fixed small details and worked out our characters. In the end, we asked Mr. Itou to go over everything. With an incredibly strenuous schedule, we finished the first draft of our scenario by the end of November.
And we still couldn't finish even by December. "We just had to finish within this month. December is a busy month, after all (laughs)." Then our team started saying we could at least finish half of it. Without being able to do much else, we started working on the characters with everything we had worked on. The director, too, gave us his honest input. He gave us a checklist of things he wanted us to incorporate into the work. The cast of the work was 40, just including the important characters. Combining the friendly and enemy mecha, we also had about 10 MS to work on. There were also ships, but we only had their names down.
The main members were all working simultaneously. Once Mr. Itou's scenario came, the director started working on the image sketch. Meanwhile, Mr. Okawara worked on the rough sketch of other MS and ships.
As for Mr. Yasuhiko, he would often tell us that he'd start working on the characters once he's done with his manga manuscript (laughs). But he always made it on time.
Director Tomino also had his own monthly series. Mr. Okawara, too, was working on Brave Exkaiser on the side. So we would try to slip in more work before his side work, and even make a deal with the other studio to buy more time (laughs). In the end, we somehow had managed to finish the first draft of the scenario, and we would jokingly talk about revising it and getting in December as a Christmas gift (laughs). We were glad when we heard director Tomino whispered to us that he'd give it to us as a New Year's present.
And that's exactly when we got it. We were in most part done with the MS and the characters, so we started working on the project proposal for the movie. We made rounds, taking it to companies like Bandai Co., Ltd. and Shouchiku Co., Ltd. Normally, I would think a project proposal would take about half a year, but this was in no way our case.
We would keep asking our writers to finish the second draft of the scenario no later than January, but then we were already in February. At one point, the director saw the heading and told us he could make a storyboard with it.
In the end, the storyboard was somehow finished, but our deadline was approaching fast. Because the director started to work on the image sketch, we took whatever was done to the scenario writer to pester him (laughs).
The image sketch was also taken to Mr. Okawara. He'd say, "huh, it looks pretty realistic this time." With these things in mind, everyone's work continued.